Welcome to this edition of the MACROC Newsletter.
Full House for South West Development Forum
MACROC is expecting a full house for the South West Sydney Development Forum being held on 21 October at the Campbelltown Arts Centre. Over 160 leaders in industry, government and business have already registered their attendance.
The Forum is designed to promote and raise awareness of the many development opportunities available in the Macarthur region.
Macarthur will be going through a significant growth stage and the Forum provides an opportunity to gather key people together to outline how Macarthur will meet the challenges ahead and how we can take advantage of the growth in the Macarthur region to increase economic activity and employment for our community.
One of the key features of this Forum is collaboration, achieved by involving planners, Councils, state government agencies and financiers. The focus is South West Sydney incorporating the Macarthur region as well as Liverpool Local Government Area.
Keynote speakers include:
• Sam Haddad, Director General, Planning NSW
• Sean O'Toole, CEO, LANDCOM
• Kevin Sproats, Pro Vice Chancellor, UWS
• Gavin Bishop, Director, Colliers International
• Martin Hill, Hill PDA Property Consultants
• Phil Tolhurst, General Manager, Liverpool City Council
MACROC believes that the Forum will result in an improved understanding of the current trends and future outlook for property and land development in the South West region; improved spatial planning policies and development services as a result of feedback from relevant stakeholders; increased awareness of development opportunities in South West Sydney and an enhanced regional collaboration to further the development needs of the South West region.
There are a limited number of seats still available. Those interested in attending should register as soon as possible by contacting MACROC office on 4645 4937.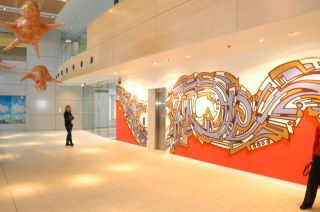 Campbelltown Arts Centre: venue for Development Forum
Final MACROC CEO Breakfast Forum for 2009
The final MACROC CEO Breakfast for 2009 is being held on the morning of Friday 27 November at Wests Leagues Club.
This breakfast follows the two very successful Forums held earlier in 2009.
In August more than 160 business leaders converged on the quiet village of Menangle for the MACROC hosted CEO Breakfast Forum.
Held at Durham Green Village, the Forum focused on addressing the challenges that our ageing population present to business, as well as industry and governmental responses to ageing.
Guest speakers included The Hon. Craig Knowles, former NSW Government Minister (including the Health portfolio), and Steven Gal, a senior officer from the NSW Department of Ageing Disability and Home Care. Both have extensive experience in the area of public policy.
MACROC expects a very strong turnout for the final CEO Breakfast Forum for 2009. Our guest speaker is The Hon. Nick Greiner. Mr Greiner was Premier and Treasurer of NSW from 1988 - 1992 and since retiring from politics has been heavily involved in the corporate world.
Invitations to the Breakfast Forum will be sent out soon and we encourage to you to register for the event as soon as possible.
Please call Pamela at MACROC on 4645 4937 if you would like to register.
And remember large, medium or sole proprietor businesses are all welcome at the Breakfast Forums! The Forums provide a great opportunity to network and exchange information.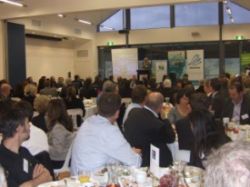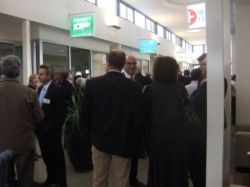 Macarthur Economic Development Review Underway
MACROC is currently undertaking a major review of its Macarthur Economic Development Plan to realign its strategies and initiatives with the emerging challenges and opportunities presented by an increasingly globalised economy. To assist in this process, an Economic Development Advisory Group has been convened, comprised of local leaders in business and industry, as well as senior staff from Camden, Campbelltown and Wollondilly Councils.
The current Economic Development Plan was drafted in 2005 and needs to be reviewed to reflect a number of significant developments, including the State Government's Metropolitan Strategy, and the Draft South West Sydney Sub-regional Strategy, which set employment targets for the region.
The MACROC commissioned study 'Employment Prospects for South West Sydney' also identifies a number of issues that need to be addressed, and of course, since 2005, there have been structural changes to the economy that will impact on our region.
The input from the members of the Advisory Group, who represent both large and small business and work in a range of industry sectors, will ensure that the MACROC economic development strategy continues to promote better economic growth and employment opportunities for our area.
Macarthur Business Survey 2009
As part of updating the Macarthur Economic Development Plan MACROC conducted a business survey during June and July of this year.
The MACROC initiative was designed to develop an understanding of local business insights into current trends and the future outlook for trading conditions, as well as business perceptions about the advantages and constraints of doing business in the Macarthur region.
In their response to the Survey participating businesses identified the credit squeeze as a major constraint to the expansion of business in Macarthur. Other pressures identified were poor infrastructure and subdued demand conditions.
The information provided by the Survey results will assist MACROC in its review of the economic development strategy for the Macarthur region.
The Survey, in which 84 businesses from a wide range of industries participated, provides insight into future training needs, investment demand and procurement practices. The results of the Survey can be viewed at www.macroc.nsw.gov.au.
Keep Australia Working
The Executive Officer and the Economic Development Officer attended this forum that was held at Liverpool on Friday 17 July 2009. Organised by the Federal Department of Education, Employment and Workplace Relations, the aim of the meeting was to bring together community leaders, business representatives and job service providers to join with the Federal Government to develop a regional employment strategy for Canterbury-Bankstown and South Western Sydney to allow the community to obtain maximum benefit from the Government's Stimulus Package and the Jobs Fund as well as to develop individualised responses to the impact of global recession.
Lindsay Fox and Bill Kelty have joined the Keep Australia Working campaign to act as Local Job Champions and they worked with participants on the morning to identify local skills and labour needs and to develop a direction for the future.
MACROC is a member of the newly established Canterbury-Bankstown and South West region Keep Australia Working Advisory Committee. One of the terms of reference of the Committee is to assist in the development and implementation of a strategic Regional Employment Plan designed to identify key priorities for the region.
State Plan Update
The NSW State Plan is currently being reviewed to ensure that public sector agencies provide the best service to the people of NSW. The update of the State Plan will also reflect current opportunities and challenges, in particular creating jobs and sustaining business investment in difficult economic times.
The community leaders' forum invited local community leaders of Macarthur to participate in the forum where groups were asked to identify the things that worked well in the region as well as priority areas for action. Those things that were identified as working well included powerful partnerships and a strong sense of community. Areas for priority action included improved employment opportunities, better educational opportunities and support services for education, an increase of traineeships and apprenticeships, better transport infrastructure and cross regional connections, care for the environment and support for regional tourism.
The revised NSW State Plan is due to be released in October 2009.
Freight Workshop:Actions for NSW Freight and Logistics Efficiencies
The Freight and Logistics Council of NSW (FALCONSW) is holding a series of workshops across NSW designed to provide industry, government and other key stakeholders with the opportunity to give their views on the changes that are needed to boost productivity, growth and sustainability within the freight and logistics sector.
The participants included manufacturers, distributors, retailers and small and medium enterprises as well as transport and logistic service providers, commercial property developers and representatives from State and Local Government.
Dick Webb, Manager of Technical Services, Campbelltown City Council and a member of the MACROC convened Working Group on Transport Infrastructure Priorities for the Macarthur Region, gave a brief presentation on the transport issues of concern in Macarthur.
Workshop on Regionalism
Planning has commenced for a MACROC/WSROC supported workshop on regional governance.
The workshop will be one of three held as part of a research project being undertaken by Griffith University and Charles Sturt University to look at the future of regional governance in Australia. Western Sydney was chosen as one of the regions to be analysed. The other two are Central Western Queensland and the Riverina.
The research is funded by the Commonwealth Government through the Australian Research Council 'Discovery Project' Towards Sustainable Regional Institutions.
It is proposed that the workshop be held in partnership with MACROC and WSROC and key participants and stakeholders in regional governance be invited to share thoughts and experiences on the strengths and weaknesses of the current framework for regional governance and discuss opportunities for short term and long term reform.
This 'on ground' research will be married with a national study on citizen attitudes to the current federal system, including the place of local government and regional governance within it to produce new recommendations about how the federal system might evolve.
Macarthur Regional Cycleway Project seeks Federal Funding
MACROC is supporting a significant project that is seeking funding through the Federal Government's Jobs Fund.
An ambitious project the Macarthur Regional Cycleway aims to provide an off road cycleway and pedestrian shared pathway connecting Camden and Macarthur Railway Station by passing through Mount Annan Botanic Garden and the University of Western Sydney and creating cycle and pedestrian links into new suburbs at Spring Farm, Garden Gates, the future development of Menangle Park and beyond.
This initial application relates to a submission for the funding of stage one of the cycleway to be constructed within the timeframes required by the funding body and a second stage using funds committed by Landcom and the University of Western Sydney. The estimated cost of the first stage is $2,200,000 and the second stage is $1,900,000. The first stage covers the link through Mt Annan Botanic Garden and the second covers the area through the proposed UWS residential precinct.
Project partners with Councils are Mount Annan Botanic Garden, the University of Western Sydney and Landcom.
Whilst the proposed Macarthur Regional Cycleway at this time only touches the boundary of the Wollondilly Local Government Area it is envisaged that when future funding becomes available the Cycleway will be extended.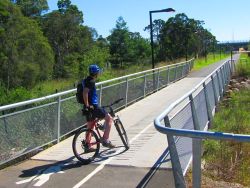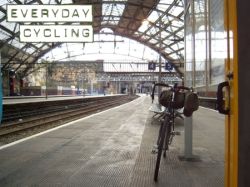 Garden Guerrillas Come to Macarthur
The Producer and one of the Presenters of the very successful television show Garden Guerrillas came to Macarthur to participate in the Western Sydney Urban Parks and Open Spaces Forum hosted by MACROC and held at Campbelltown City Council on Wednesday 5 August 2009.
Although the Garden Guerrillas have sometimes locked horns with Councils, essentially their aim has been to beautify public spaces that have been neglected and they found that once an area had been beautified, community pride develops and results in ongoing maintenance of the space. Their experience has taught them that what was essential for well used and cared for urban space was community engagement and involvement in the process. Other speakers agreed that had also been their experience.
The discussion moved to broader areas such as the importance of quality landscape design in public housing estates and the need for sustainable practices in urban design.
An initiative of The Hon David Borger, Minister for Housing and Minister for Western Sydney, the forum follows on from a successful forum held in Parramatta in April and looked at the common issues that were raised by Council participants regarding open space and urban parks: the provision of easy access, clean facilities, good visibility into parks and the introduction of thoroughfares to attract more use of space and to reduce urban isolation.
It is expected that the forums will continue on a quarterly basis when the network will meet to share common experiences and trade solutions.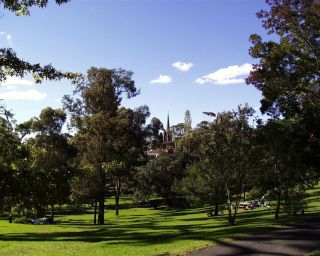 Macarthur Future Food Forum Workshop
MACROC was one of the sponsors of a regional workshop that was held in Campbelltown on 15 September 2009. Together with the NSW Department of Agriculture, the South West Sydney Area Health Service, Sector Connect and Macarthur Diversity Services the workshop was one of a series of regional workshops designed to inform the Sydney Food Fairness Alliance Summit being held in Sydney in October 2009. The morning commenced with guest speakers talking about planning for food production, accessing affordable food and the importance of market gardens in the Sydney Basin. Following the guest speakers, participants discussed four main issues: access to healthy food, planning for healthy food supplies, sustainable agriculture and food safety and health.
More information on the Sydney Food Fairness Alliance and the Sydney Summit can be found at www.sydneyfoodfairness.org.au.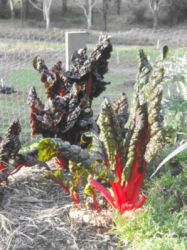 MACROC Dates for 2009
South West Sydney Development Forum 21 October 2009
MACROC CEO Breakfast Forum 27 November 2009
Attention:
This newsletter is purely for information. MACROC takes no responsibility and provides no guarantees, warranties or representations, implied or otherwise, for the content and accuracy of the newsletter, featured products and links.