Welcome to this edition of the MACROC Newsletter.
In this issue:
The South West Sydney Development Forum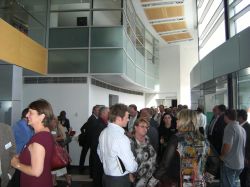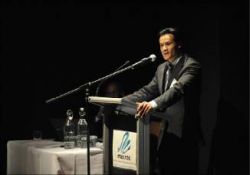 Over a hundred and fifty people attended the MACROC coordinated South West Sydney Development Forum held on 21 October 2009 at the Campbelltown Arts Centre. The objective of the Forum was to raise awareness of development opportunities in South West Sydney, to develop collaboration and partnership with relevant agencies to promote common regional issues, as well as to attract more investment to the region.
The audience came from a wide range of industry groups and there was strong representation from the property development and finance sectors as well as strong attendance from State Government agencies. Clearly there is increasing awareness that the South West of Sydney is about to undergo enormous growth and consequently provides great opportunity for business investment.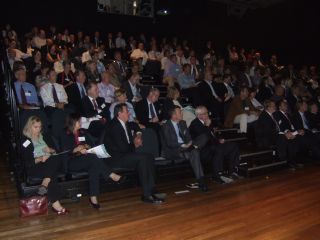 A full house for the Development Forum
Final MACROC CEO Breakfast Forum for 2009
Many of you will have attended the final MACROC CEO Breakfast for 2009 that was held on the morning of Friday 27 November at Wests Leagues Club.
There was a very strong turnout with over one hundred and ninety guests joining us to hear our guest speaker The Hon. Nick Greiner, AC. As you know Mr Greiner was Premier and Treasurer of NSW from 1988 - 1992 and since retiring from politics has been heavily involved in the corporate world. His talk which was entertaining as well as informative covered a wide range of very topical issues that were of interest to all the audience whatever their political persuasion.
MACROC will once again host three CEO Breakfast Forums in 2010, the first being in the Camden Local Government Area. We hope that you find the Forums informative and that they provide you with opportunities to network and to make new business connections. We look forward to seeing you in 2010.
If you are interested in being a Sponsor for one of the MACROC CEO Breakfast Forums please call Pamela at MACROC on 4645 4937. And remember large, medium or sole proprietor businesses are all welcome at the Breakfast Forums! The Forums provide a great opportunity to network and exchange information.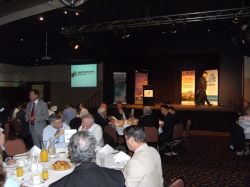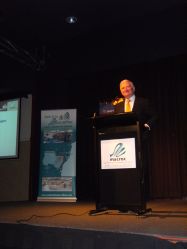 Guests at the CEO Breakfast forum The Hon Nick Greiner addressing the Forum
STD Charges in the Macarthur Region
MACROC President, Cr Anoulack Chanthivong has commenced a campaign to call for telecommunications companies to remove higher STD telephone call charges for Macarthur businesses and residents when calls are made to metropolitan Sydney.
Macarthur as a significant economic region, will be experiencing major population growth and is very much a part of the Greater Sydney economic region. All telephone companies need to recognise this and make changes to the way they charge telephone calls made by Macarthur residents and businesses. The current STD charges are an unjustified additional cost for our region and make our local businesses less competitive.
Symmetry Sustainable Business Program
Federal funding for the very successful Symmetry Sustainable Business Program ends on 31 December. The program that commenced in February 2008 has been taken up by many enthusiastic businesses in the Macarthur and Liverpool regions. To date 567 businesses have attended information sessions, 181 businesses have been mentored, 83 businesses have qualified for Bronze accreditation and a total of 61 businesses have graduated from the Symmetry Sustainable Business Program.
Companies that graduate are entitled to use the Symmetry logo, a symbol to the community that they adopt sustainable business practices, and their company details appear on the Make it in Macarthur website. Despite there being no ongoing funding for the program, businesses who have graduated will be entitled to continue to use the logo and MACROC will maintain their details on the website for a nominal yearly fee. New companies will be able to attain Symmetry accreditation but on a user pays basis.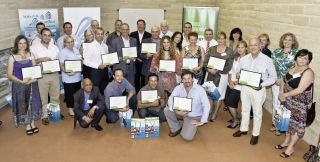 Symmetry Graduates
The South West Rail Link to Go Ahead!
MACROC has been lobbying hard over the last year for the construction of the planned South West Rail Link, the Glenfield to Leppington Line, so it was good news for the region when the State Government put the $1.36 billion South West Rail Link back on the transport infrastructure agenda.
On 14 November the Premier announced that the 11.4 kilometre link running from Glenfield to Leppington would commence construction next year and would be completed by 2016. As part of the project, two new stations will be built at Leppington and Edmondson Park, as well as new train stabling facility at Leppington which will allow more Cumberland line services to Parramatta.
Given the massive population growth that the region can expect by 2031 MACROC has always advocated that the rail link is an essential piece of public transport infrastructure.
MACROC will continue to lobby Government on other transport infrastructure needs including the upgrading of Camden Valley Way, Narellan Road and Badgally Road as well as improvement of cross regional transport links and better public transport.
Macarthur Lifestyle and Business Expo 2010
The Macarthur Lifestyle and Business Expo 2010 will be held at the Mount Annan Botanic Gardens on Saturday 17 and Sunday 18 of April.
MACROC has participated in this event over the past three years to support positive economic development outcomes, including more business to business trade and consequentially more jobs and investment in the region. MACROC will provide planning and event management support through participation in the Macarthur Lifestyle and Business Expo Steering Committee.
If you are interested in finding out more about the Expo you can call (02) 4629 7170 or go online at www.macarthurexpo.com.au.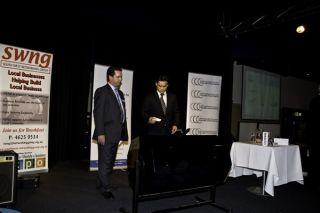 President Chanthivong at the 2009 Lifestyle & Business Expo
Keep Australia Working
Keep Australia Working is the Federal Government initiative under the Department of Education, Employment and Workplace Relations designed to develop regional employment strategies for areas targeted as being vulnerable to the pressures of the global financial crisis and attendant pressures on employment.
The Committee identified that the unemployment rate in Canterbury-Bankstown and South Western Sydney has increased by 1.9 percentage points over the last year to stand at 8.6 per cent in September 2009, 3.1 percentage points higher than the national average. It also noted that manufacturing comprises 15.0 per cent of the total employment of the region and this industry sector is already being hard hit by the global recession. It concludes that the region's high unemployment together with the large employment in manufacturing suggests the area is at high risk if there is further deterioration in labour market conditions in the coming months.
The Committee, of which MACROC is a member, is currently drafting a regional employment plan. The plan will identify key priorities for the region. It will identify employer needs, skills and labour shortages, structural problems, ways to address high levels of unemployment, measurable goals and local strategies that can achieve these goals.
Western Sydney Jobs Summit
Currently all levels of Government are focussing on ensuring that NSW weathers the global financial crisis and indeed emerges stronger in terms of employment and business development.
The first Jobs Summit was held in early 2009 and the Premier of NSW convened a second summit in Western Sydney. There are Summits being held in regional areas such as the Hunter and the Illawarra but in holding a Summit in Western Sydney the State Government acknowledges that given the growing population of Western Sydney the region faces particular challenges in terms of creating sustainable jobs.
MACROC attended the Western Sydney Summit held at Penrith on Friday 4 December and joined other participants to discuss ideas to stimulate job creation and generate investment. The new Premier of NSW, Kristina Keneally, in her first public engagement since being sworn in as Premier earlier that day, assured the audience that jobs and investment in Western Sydney were high on her Government's agenda. She announced Jobs for Western Sydney, Western Sydney Growth Plan, Consultation Draft, a paper which outlines three key strategies: Improve Transport and Grow Jobs in Regional Cities and Business Parks; Support Growing Industry Sectors in Western Sydney; and Attract and Retain Skills in the Region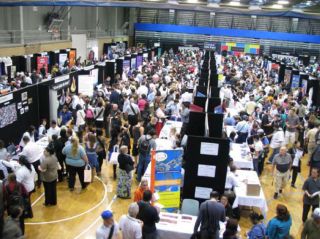 Keep Australia Working Centrelink Jobs Expo at Liverpool in October
Best Wishes for the Christmas Season
On behalf of the Board of MACROC, President Anoulack Chanthivong and the staff at MACROC, Christine, Imam and Pamela, would like to wish you and your families a safe and happy Christmas and New Year.
Attention:
This newsletter is purely for information. MACROC takes no responsibility and provides no guarantees, warranties or representations, implied or otherwise, for the content and accuracy of the newsletter, featured products and links.