Welcome to this edition of the MACROC Newsletter.
A New President for MACROC
In November Campbelltown Councillor Anoulack Chanthivong completed his two year term as President of MACROC and the MACROC Board endorsed Councillor Benn Banasik from Wollondilly Shire Council as President for 2010-2012.

At the MACROC Annual General Meeting Councillor Chanthivong thanked the MACROC Board Members and MACROC staff for the support they had given him over the last two years and said that he felt confident that MACROC would continue to grow in strength as it advocated for the region. Cr Chanthivong said that he believed in success through regional cooperation and one of the reasons for MACROC's success was that it was bipartisan and sought to put politics aside in order to express the concerns of the Macarthur region as a whole.

New President Cr Benn Banasik is a Councillor with Wollondilly Shire Council. Cr Banasik was elected to Council in 2008 and served as Deputy Mayor from September 2009 to September 2010. Benn has been a member of the MACROC Board since 2008 and currently works for the Federal Government.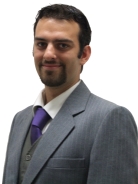 New MACROC President, Cr Benn Banasik
AFL Chief Andrew Demetriou comes to Macarthur
The final MACROC CEO Breakfast Forum for 2010 is being held on Thursday 9 December at the Campbelltown Catholic Club.

Australian Football League CEO Andrew Demetriou is known as a straight talker recognised by both critics and supporters as a tough negotiator and a man who stands firm on policy decisions. In his time as the CEO of the AFL Andrew has used the League to promote racial equality, respect for women and cancer awareness. He has also been actively involved in improving player welfare with new policies on pay and illicit drug use.

This breakfast is sure to be very popular so call MACROC on 4645 4937 to book your place. If you book a table of ten you can display your company logo.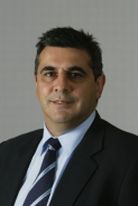 Guest Speaker: Andrew Demetriou
Congratulations to the 2010 Inductees to the Macarthur Business Hall of Fame
On Wednesday 29 September business people from across the Macarthur Region gathered to pay tribute to three leading entrepreneurs from the Macarthur business community.

John Wisby, Joan Derks and Terry Fordham were inducted into the 2010 Macarthur Business Hall of Fame and presented with striking glass trophies as a memento of the occasion.

Guests at the event watched as the achievements of these three prominent Macarthur business people were highlighted on footage projected onto two giant screens.

This year MACROC acknowledged three business entrepreneurs who have contributed not only to the creation of employment and economic growth in the Region but who have also been actively involved in contributing to the social fabric of our community. John Wisby of Wisby and Leonard; Joan Derks from Derks Produce and Terry Fordham join past inductees in the Hall of Fame.

The Macarthur Business Hall of Fame can be found at www.makeitinmacarthur.com .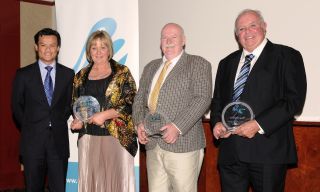 Cr Anoulack Chanthivong with inductees Joan Derks, John Wisby and Terry Frodham
Call for Submissions on Maldon Dombarton Rail Link
The Australian Government has commissioned a feasibility study of a rail line between Maldon and Dombarton. The study is intended to assess existing infrastructure, detailed planning and engineering work requirements and provide economic and financial modelling to determine the viability of this project.

This study will examine the long term economic viability of the Maldon-Dombarton rail line in the context of the growth in coal export demand, the growth of Southern Sydney as a freight and business hub and the expansion of Port Kembla following the transfer of vehicle imports from Port Jackson.

The Pre Feasibility Study on the Rail Link, released in 2009, found that new intermodal freight corridors serving South West Sydney industrial areas may be required by 2020 due to rail and road congestion and that an improved rail linkage to South West Sydney would represent a freight opportunity for the port of Port Kembla.

Submissions to the Maldon to Dombarton Rail Link Feasibility Study are now being received until 14 December. Submissions received will be considered by the consultants, ACIL Tasman, in advance of a final report going to the Minister for Infrastructure and Transport in mid 2011.

Information on the study together with details of how to make a submission can be found at:
http://www.nationbuildingprogram.gov.au/projects/ProjectDetails.aspx?Project_id=RAIL016
Wollondilly Business wins the Macarthur Sustainable Business Award
Wollondilly business Mowbray Park Farm has won MACROC's 2010 Macarthur Sustainable Business Award.

Owners Blair and Jacqui Briggs were presented with the award by the President of MACROC at the Macarthur Business Hall of Fame Gala Dinner on 29 September 2010.

The President congratulated the owners on the outstanding way in which they manage Mowbray Park Farm's environmental footprint and said the business was a worthy winner of an award designed to showcase the exceptional environmental practices of business in the Macarthur region.
Mowbray Park Farm is an 85ha heritage property situated in the undulating countryside near Picton at the Sydney end of the Southern Highlands. The business has conferencing facilities and accommodation and offers a range of recreational activities to its local and international guests within an Australian farm setting.
Among the sustainability measures adopted by Mowbray Park Farm are harvesting of rainwater; crop rotation; planting of native vegetation; conservation of wetlands; installation of energy efficient lights and equipment; composting; use of local produce on the farm and use of organic fertilisers.
The Macarthur Sustainable Business Award was sponsored by the University of Western Sydney.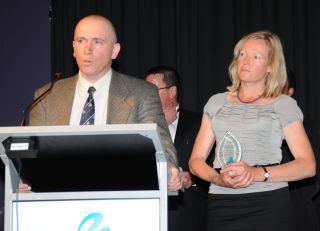 Mowbray Park Farm owners Blair and Jacqui Briggs accepting the Award
MACROC to Host Asbestos Information Evening
In partnership with the Asbestos Diseases Foundation of Australia MACROC will host an Asbestos Information evening on 16 February 2011 from 6.30pm to 8.30pm at the Civic Hall, Campbelltown.
The evening is designed to provide information about asbestos, asbestos disease as well as the steps you need to take if you discover asbestos when renovating your house. Presentations will include Professor Nico van Zandwijk, Director of the Asbestos Disease Research Institute who will talk about the latest research into asbestos diseases and Anthony Flintham from WorkCover will talk about asbestos licences and the home renovator.
The evening is a must for people who want to learn more about asbestos related diseases, new breakthroughs in treatment and how to avoid putting yourself at risk.
For more information about the Asbestos Information Evening contact MACROC on 4645 4737 and for more information about asbestos and asbestos disease you can go to www.adfa.org.au .
Macarthur Centre for Sustainable Living Celebrates Spring
The Macarthur Centre for Sustainable Living at Mount Annan celebrated Spring with its Spring Festival held on 17 October. Visitors to the Centre watched garden displays, attended workshops and bought local food and produce from stalls set up for the day.

The Macarthur Centre for Sustainable Living, supported by the MACROC Councils, is a non-profit organisation developed to demonstrate innovative sustainable practice. The Centre has an excellent Volunteers Program that provides an opportunity for members of the community to participate in the activities of the Centre sharing their expertise and learning new skills.

For more information about the Volunteers Program and about the other things that are happening at MCSL go to www.mcsl.org.au .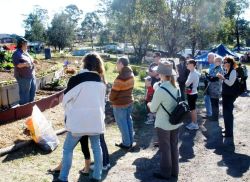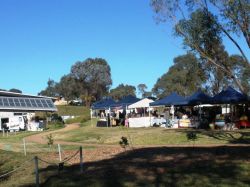 MACROC Annual Report 2009-2010
The MACROC Annual Report for 2009-2010 can be found on the MACROC website www.macroc.nsw.gov.au .
MACROC Dates for 2011
MACROC Board Meeting, Campbelltown, 16 March 2011
MACROC CEO Breakfast Forum Camden, March 2011 (date TBC)
MACROC Board Meeting, Wollondilly, 1 June 2011
MACROC CEO Breakfast Forum Wollondilly, July 2011 (date TBC)
MACROC Board Meeting, Camden, 7 September 2011
MACROC CEO Breakfast Campbelltown November 2011 (date TBC)
MACROC AGM and Board Meeting, Campbelltown, 16 November 2011
The next MACROC Board Meeting
The first MACROC Board Meeting for 2011 will be held on Wednesday 16 March at Campbelltown City Council.
And finally,… Merry Christmas!
The staff at MACROC wish you and your families a safe and happy Christmas and we look forward to a prosperous 2011 for the Macarthur region.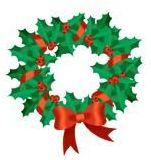 Attention:
This newsletter is purely for information. MACROC takes no responsibility and provides no guarantees, warranties or representations, implied or otherwise, for the content and accuracy of the newsletter, featured products and links.